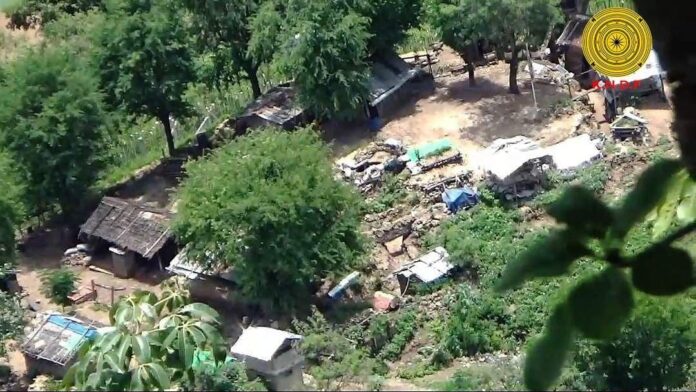 By Kantarawaddy Times
Tuesday, August 23, 2022
The Karenni resistance has captured a junta camp in Shardaw Township after Burma Army (BA) soldiers were forced into a hasty retreat after running out of food.

"The Karenni Army and Karenni Nationalities Defence Force (KNDF) carried out frequent raids on the BA military camp, eventually forcing them to retreat," a KNDF officer told Kantarawaddy Times.

Since the third week of August, there have been about ten clashes between the resistance groups and the junta's forces in Loikaw, Demawso, Hpruso and Shardaw townships, where the BA has deployed new troops as part of its latest offensive in Burma's smallest state, the KNDF officer said.

"We've had some intense clashes…We cannot confirm how many BA soldiers were killed in the fighting," he said, explaining that it was difficult to determine how many casualties the regime had suffered in raids on its columns.
A KNDF soldier was killed on 20 August after the group and KA attacked BA near Chaytawyar Pagoda Hill, where the junta has launched an offensive. Several civilians also died after the BA attacked villages in Demawso and Hpruso townships.

The KNDF officer expects the fighting to continue after the regime called for reinforcements.
"BA has been very active in Demawso Township this week."

At least two BA soldiers were killed in five battles with the resistance groups in Shardaw, Loikaw, Demawso and Hpruso township on 20 August. The armed groups also captured weapons.

According to the Demawso People's Defence Force, at least 10 BA soldiers were killed and many wounded during fighting with resistance groups in Demawso Township from 16 to 20 August.
On 15 August, KA and the KNDF attacked BA's Light Infantry Battalion 428 and 531 camp in Hpruso Township. On the same day, the groups clashed with BA near Pun Chaung in Shardaw Township.

On 11 August, they attacked regime troops near Demawso Myoma market and in Kon Thar village, both in Demawso Township.