What are the feelings and expectation for peace of the people from Western Kayan region, Pe' Kon Township, who suffered civil war during the conflict occurred in Kayan region?
In the Kayan region, the Kayan Newland Party/Army (KNLP/A) was formed in 1964 and took up arms against the military government. In 1994, a ceasefire agreement was reached with the military government. We have shared the experiences, hardships, and hopes for peace of local people who suffered within these 30 years.
Sakun Kalo (La Ei Village, Pe' Kon Township)
"Mike Village is my birthplace village.. In 1985, the military forcibly relocated us, I moved to La Ei. But if I talk about my life concerned with the military experience, it was my life as a porter while attending school when I was in the fourth grade. Later, my age grew enough for farming, but my life is still experiencing with porter. My life was as a porter since the war began until they have ceasefire. I had to move shelter, flee to another village, and been a porter. When I saw the bad military forced portering and bulling the village porters and villagers, I am very saddened. They insulted, used bad words, punched, and kicked the people, which was done by some of the bad soldiers. Not all soldiers are bad. There are also good soldiers.
We do not want war. I don't even want to see the soldiers carrying weapons and going in and out around the village. Everyone does their business and return to your home, that's what I want to see. It is my wish. You do not need to go to the moon or planets. What I want is you do your own farming, eat your own food, and spend your time with freedom, which are already enough. This is my wish."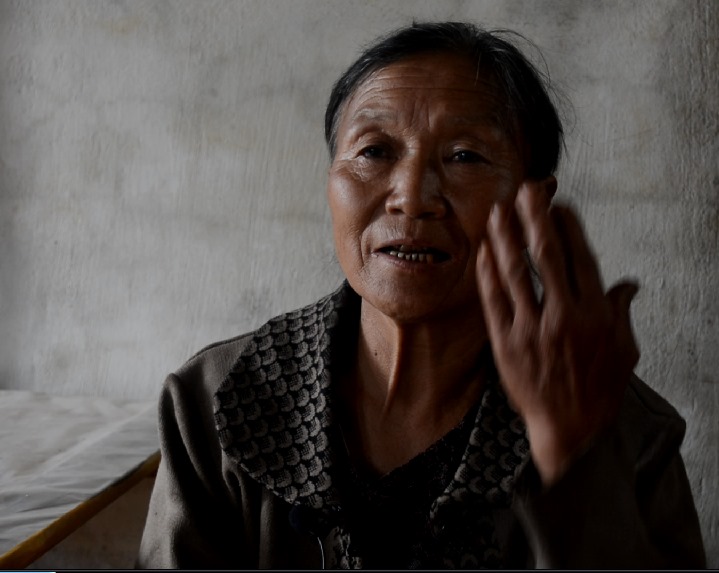 Pee Mu Saw (Han Po Village, Pe' Kon Township)
"It has been about 40 years. What I (Grandmom) remember is it was very difficult. When they were fighting, the boys had to work as porters. Once a day or every three days, they have to work as a porter. My husband also had to go even at midnight. My children and I were left behind. I have to take care of my children alone if they are sick. And we did't have any money. When there was no medical bills, I had to go to Martha's church school with some corn, and give it for my baby medicine and treatment. Once the baby is a little better, it came to my mind if I had leave my work on the farm. I also had to worry about feeding my children again. When I went to the farm. I brought them with me. My husband worked as a porter over a week. It took ten days. Sometimes it took five days. It was very difficult. When my husband returned, he could work on the farm for only a day or two. The Burmese soldier came back to him and he had to work as a porter again.
I don't want to experience a war anymore. I want to live in peace like now. If compared to the past, it is better now. What I want to say about the difficulties. I would also like to ask for help. Can I tell it? What I want to ask is I couldn't effort to buy or work anymore, and now I have to live in dark without electricity. My wish is to have electricity. If I could ask for, I want to live with light, the electricity. And I also want eye medicine, I could no longer see others well. My age is already 64 years old. I can no longer see well. "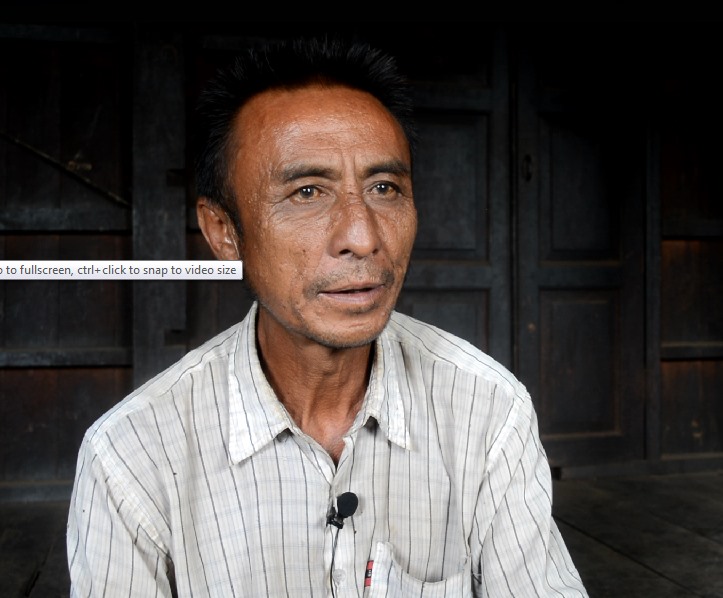 Sakun Aung Thiha (Lwe Yin Ywar Ma Village, Pe' Kon Township)
"Their communications are sometimes a bit aweful," he said. There are also villagers who could not speak Burmese well. They were tortured hard. Mostly they did't treat you nice. I was forced portered once when I was 14 years old, and per every six days when I was over 14 years old. Later I was forced to porter frequently, about 15, 16, or 20. During those six years, there were about 20 times portered. Sometimes it was near, sometimes it wasn't. I have to climb a lot of mountains. I also experienced only two persons carrying a bag of rice. If I think about it, I feel sorrow with tear. When I climed the mountain, I can't even climb the mountain on my own. But I had to carry the heavy stuff. Some people were still strong since they are young. Some people were old, and they even cried. I want to help them carrying it, but I can't carry it anymore.
For now, I want peace. In this case, in order to have freedom and peace, we need to have good transportation. Then, when the transportation is good, there is no business again. Our life is very hard. When life becomes not easy, people are in a lot of trouble. Some people could adapt with the changes, so their lives are a little better. People like us (uncle) with no capital and resources, we can't do anything.
It is best not to be like before. In case of peace in our country, I want to see we all live together no matter we have nothing or something. That's the decent thing I expect to have.
Pee Mu Ku (Pekin Ywar Ma Village, Pe' Kon Township)
"The hardship which I have experienced was I could not stay at home. I carried my children and relocated to Bant Lar. I had to leave my house. However, my house was not set on fire by the Burmese army. It said the house was on fire while they were grilling meat. The military paid me 200 kyats in compensation. I told them to fight rarely instead of frequent fight. It was very difficult to discuss with them. I had to flee day and night. If there is a gun fired, the milliary army fired continuously. The Kayan army fired rarely. They shot only when they confronted with the enemy. If they don't see, they don't shoot. They used only shotgun. Instead, the military army's gunfire lasted for three days and three nights shooting continuously. When the miliary army ran out of ammunition, they fired only when they confront with them (military army). It was very hard. Don't try it.
I don't want experience the fighting. It is very difficult and tired. Keep your mind happy. Do your farming. Go home, Go to school, Now is the happiest time. I just enjoy being at peace. I am also happy with my children, and grandchildren including my grandmom. I enjoy my life till now. No need to flee anymore. If I have money, I will use it. If not, I do not use. I will drink with suger if I can buy sugar. If you can't afford it, I don't drink. I'm happy with current situation. The sun rises in the east and sets in the west. I'm happy now. I mean, there are no more worries."
Sakun Lawrin (La Ei Village, Pe' Kon Township)
"Small villages merge with big villages. So, Ka Mike Village was merged with La Ei. They reunited the villages located by the roadside. In the lower part, there is one such village combined three or four villages. Hun Tee joined La Ei. At that time, we suffered a lot. Everyone suffered, both girls and boys, children, old people including youths. We could not focused working on our work. I asked for a letter of recommendation from the chief. If you go to the farm without chief's recommendation letter, you will be arrested. They accuse you as a rebel. If you go to your farm, you need a letter of recommendation. If you want to go to the market, you need a letter of recommendation. If you want to go to other villages, you need a letter of recommendation. That's how they condemned you.
When you were forced to porter, it was not that easy. They placed you within them in line. Each porter between the soldiers like that. The reason is because if the enemy fires, they beileve they will not be hit and used as shield. The enemy is Kayan Newland Party, and the porters are Kayan. But, they called the party as rebels. If the rebels shoot, it is they shoot their own people (porters), so they used as shield, and to protect their life.
Now it is democracy. By the time democracy began, things had calmed down a bit. But that is not all we want to be. I want to live in peace. Now is like whether we have to be afraid of the soldiers or other thing, so we feel unconformtable. I still have that feeling. We want to live in peace as a citizen. Since the military has its own duty, just do their job. The rulers also concern only their responsibilities. The citizens also do its job so that there will be peace."