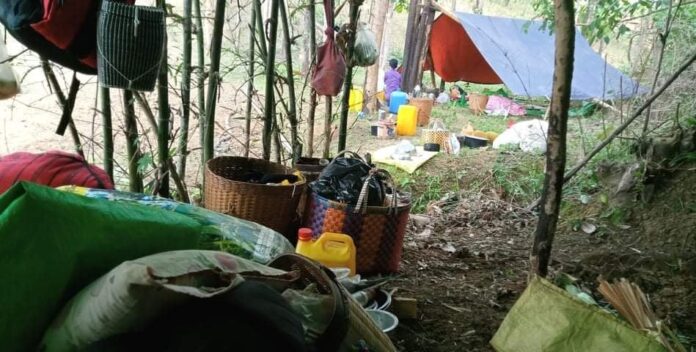 By Kantarawaddy Times
Civilians displaced by the junta's offensives and fighting with the Karenni resistance have been living in rudimentary jungle camps or near villages for many months, struggling to survive.
"The violence that has forced them to flee their homes and farms has deprived them of their regular income," Banyar of Humanitarian Focal told Kantarawaddy Times. If the situation does not improve, they will run out of food within one to two months.
Although some internally displaced persons (IDPs) in Karenni State (also known as Kayah) have been able to return to their paddy fields to harvest after the fighting subsided, most of those from wards in Demawso town have not been able to grow any rice this year.
"The UN agencies such as WFP, UNICEF, UNHCR and ICRC are mandated to provide humanitarian assistance and protection to the displaced. I think these organisations need to talk to the military council. If they delay taking action, there will be more suffering," Banyar said.
One displaced woman living in a camp in western Demawso Township said that now that it is cold, they need warm clothes and blankets, as well as rice and other basic food items. "We depend on donations and I think we will soon starve if there are no donors to help us."
According to the Karenni Civil Society Network, over 150,000 people—more than half the population of Karenni State—have been displaced since the conflict between the military and Karenni resistance groups began in May. About 70,000 people have been affected by the violence in Demawso Township.
International non-governmental organisations only started helping the IDPs in the township in October, while local organisations and private donors from abroad have been helping them since the beginning.
According to another person named Banyar, who works for the Karenni Human Rights Group, the UN agencies should provide more support to the IDPs. Karenni volunteers are doing all they can despite the challenges posed by travel restrictions in the state. The regime has arrested and assaulted people who tried to bring things to the IDPs and burnt food.