Maw Oo Myar

Karenni National Progressive Party (KNPP) have signed the state level ceasefire agreement and based liaison offices in Loikaw, Shardaw, Pha Saung Townships respectively after 2012 in order to continue building the peace process with the government from Kayah (Karenni) State.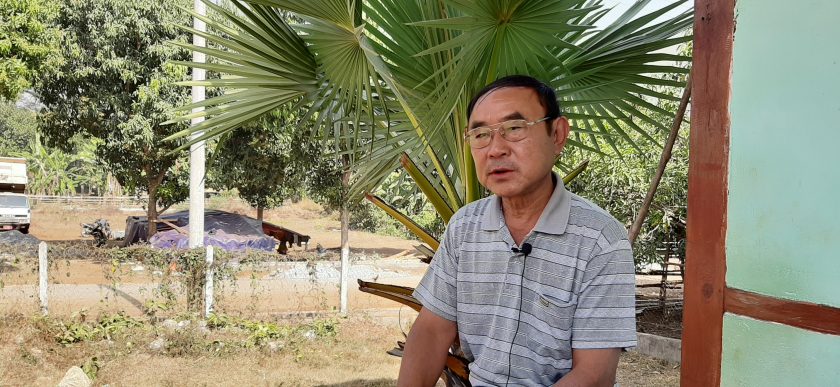 We would like to present our interview to Khu Boe Reh the person in-charge of Liaison Office of (KNPP) in Shardaw concerned with the progress that what they have been struggling for peace process including the well-being of communities within this (8) years after signed ceasefire agreement and built liaison offices.
Kantarawaddy Times – Hello Sir. What activities are there in this Liaison Office of Shardaw currently?
Khu Boe Reh – Our liaison office has five main missions. The first one is the duty to maintain to not have any fighting mutually. The next one is our duty to the public. One more is we will not sign the NCA yet because the agreed points in NCA and the actual situation are incompatible. As you know, the issue of Bo Kyote Statue is still happening.
The land confiscation is still happening. That is because there is no transparency and even there are fighting with the signed armed groups. Another one is there will be the movement to cease the problem. Our party will take-action for it. This is the system of mutually pre-command to avoid coincidental meet. The last one is, as I said before, we will always negotiate cooperatively to avoid problem. For instance, we are taking every action with these five points in case of health, education, construction, and reconstruction of road and bridge.
Kantarawaddy Times – When we talked with local people, they said they are anxious with the military's movement. So, what comment do you want to give responding to their anxiety?
Khu Boe Reh – I am quite worried with their anxiety. We frequently warn to the related military bases. Whenever we take our movement, there is a compulsory action to inform two days or three days ahead as agreed in agreement. For now, however, we don't know whether they are enraging us. They are taking their movements without any informs. They even entered secretly into our limited control areas.
Besides, there were also their violation to human rights. But the communities are not dared to report it since they are afraid that the fighting will occur again. Regarding to anxiety, everyone is worried. Our main concern is those movements could hinder onto our so-called peace, peace process.
Kantarawaddy Times – What would be your action point and how could it be if there are some changes?
Khu Boe Reh – I have discussed related it. We have met with our current strategist and discussed the issue to avoid present problems and to keep watching the peace process stably. When we say we can only defend if there is an unexpected cause occur as we are the one who supposed to take a move in accordance with our leader's command, this raised point come into consideration. We still have the question whether the military and government willing to have the peace.
Kantarawaddy Times – How does your party keep maintaining to avoid the fighting as your party haven't sign NCA?
Khu Boe Reh – Related to this, we can re-ananlyze the benefit after 70-years of civil war. We lose our people from the fighting. Even they do not die, their lives turn to poor, lose leg or hand, or more suspensions occur, or arrest or detain. As only those tragedies result, we deeply desire to have peace. As we really want the virtual peace, we have to keep going forward with stability and peacefully.
Kantarawaddy Times – Yes, what is the difference between current government and previous government upon peace making effort?
Khu Boe Reh – Comparing to the situation of current and previous government, they are like practicing fake democracy although we understood that the current government is democracy government since they are doing whatever they want. We see like this and I don't understand whether the community people are kind of superstitious. They don't understand the law and constitution well; yet they don't explore the articles included in 2008 constitution. Thus we understand that the government has responsible to strive for the quality of real democracy.
Kantarawaddy Times – What effort have you made in case of the barriers that local people from collective villages who suffered from the four cuts still could not reform and develop their home place and life in Shardaw region? What about the government?
Khu Boe Reh – The main issue is the fear is still surviving in their thoughts. The situation is like they are wondering it would occur again like in the past. Some people also have talked with me about the situation and their lack of reliability. They are suffering from it. If it will become transparency or if the government build understanding and trust with us, we often keep it as first priority. They are as I said before encountering with the uncertainty on trust and reliability since they have no dependable person. In case we have a shot at it, the government for instance could forbid it. We in fact have impulse to help them whether day or night.
Kantarawaddy Times – So your point of view is the development of Shardaw is more in the government's control. In that case, what should the government implement as priority?
Khu Boe Reh – As I said before, you should have strong development system if you are eager to develop it. You need qualified development system. One thing is you need to consult with the public. The next thing is there could be more or less grievance or loss. Thus we for instance need the policy of how to compensate for the loss. We however see that they know only what they want to do.
Kantarawaddy Times – One more issue is healthcare. We have heard that there is insufficient support of drugs or no ready doctor whenever local people go to the hospital or clinic. So what comment do you want to give upon it?
Khu Boe Reh – I think it would be more perfect if you ask the government because we could not tell in detail as they operate their scheme with their flow; however we are not sure whether they actually operate in accordance with their scheme since Shardaw is the area none of officials willing to sojourn. This does not happen just now; it happened since before. If the official has indeed willingness to help the community, I think those kinds of issues should not be anymore.
Kantarawaddy Times – Is there any moves your party are taking action or planning to help in healthcare?
Khu Boe Reh – Not yet in urban area. We have Backpack service team which we provide our service to rural areas. It is the group which enter and service village by village. However, we don't know in detail how they are operating.
Kantarawaddy Times – I see. Another case is as we know the 2020 election is coming soon and Daw Aung San Suu Kyi also visited to Kayah State. So what comment do you want to give regarding to this?
Khu Boe Reh – I would like to suggest paying some attention to local's raised voice and struggle for peace fairly based on the history of its regions. Besides, our Karenni people have strong evidence. And it is also important to not self-centered; only knowing to become authorized person. If we say politician, everyone is politician and a good politician. I would like to suggest the government to service the public with dedication.
Kantarawaddy Times – Yes. What do you want to suggest in case of 2020 election and for Shardaw Region?
Khu Boe Reh – We haven't known exactly which party or candidates will nominate in Shardaw Township yet. So it is hard to suggest concerned with it.
Kantarawaddy Times – Yes, would you like to give any other suggestion?
Khu Boe Reh – Our Shardaw area is very remote and still not transparent administration. Yet it is still the military operational area. So I would like to say thanks for interviewing me here. I also hope it would benefit for the community.
Kantarawaddy Times – Yes, thank you for sharing your time and accepting our interview.