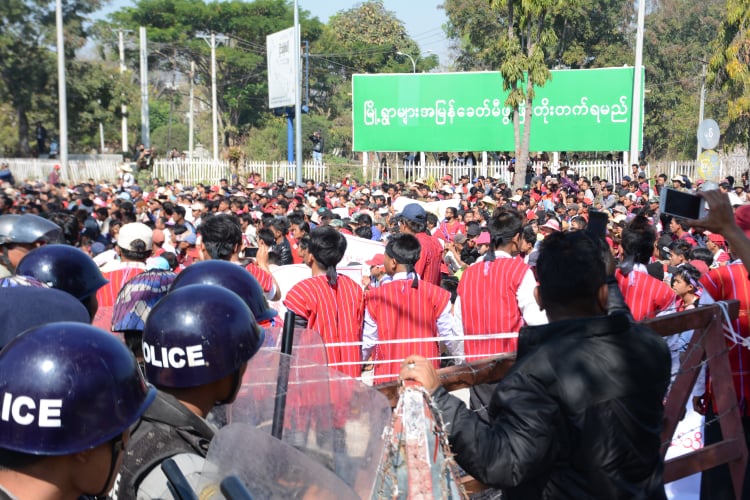 Demonstrators accuse the government of abusing demonstrators on Union Day, and an MP says the state govt is to blame.
By KANTARAWADDY TIMES
Police cracked down on a demonstration of around 5,000 people on Tuesday in a Loikaw park, firing rubber bullets at a crowd and injuring protesters. 
The protest surrounded a copper statue of the late Gen Aung San, placed in Kanta Heywon Park last month. Youth and activists initially held a demonstration in the park in early February saying that the statue symbolized a move to "Burmanize" the ethnically diverse area.
Those demonstrating on Tuesday tried to enter the Kanta Heywon Park from multiple directions, but police forces blocked them from coming into the space.
"They tried to restrict us from entering the public park, even though we politely demanded permission to do so… The police cracked down on them with a fire hose," campaigner and protester Naw Pah Wah told Kantarawaddy Times. "The elected government is abusing people," she added.
According to a Kantarawaddy Times field reporter, at least 10 people were injured by the rubber bullets.
Tuesday marks the 72nd Union Day in Burma, commemorating the anniversary of the signing of the Panglong Agreement in 1947. The accord, signed by Gen Aung San and representatives of some of Burma's ethnic nationalities, represented a commitment to building a future Union based democratic federalism.
Protesters told Kantarawaddy Times that they were not protesting Gen Aung San himself, but rather demanding that the current government—headed by the late general's daughter, State Counsellor Aung San Suu Kyi—fulfill Gen Aung San's promises to ethnic communities.
"The state government must have given police permission to use rubber bullets ahead of the demonstration. This is not the democratic way. They prefer to use excessive executive power than to use the power of negotiation," Ko Kyaw Htin Aung, a campaign leader, said.
Kantarawaddy Times repeatedly called Karenni State chief minister Eh Hpoung Sho, state municipal minister Dr. Aung Kyaw Htay, and state parliament speaker U Hla Htwe for comment, but there was no answer.
Dr. Khin Sithu, a National League for Democracy parliamentarian for Loikaw, said that the upper levels of government are to blame for the current unrest and that legislators feel they "cannot do anything."
"The chief minister and his government have done this. There are problems with them. We can only give suggestions. We cannot get directly involved in this case," she said, adding that these suggestions are rarely accepted.
The Karenni State government began construction of the Gen Aung San statue in early 2018, but faced strong local opposition, particularly from Karenni youth. The statue was finally unveiled to the public on February 2 of this year. Government authorities told youth in a February meeting that a "private committee" was behind the statue's construction and funding.